Connecting You to an Environment for Success
Cheri is an Education Consultant who holds a College Counseling Certificate from UCLA Extension. Helping students navigate the complex college admissions process while assisting with all aspects of the college search and application process, from finding the perfect college match to the acceptance letter and beyond, Cheri will be there to help guide you every step of the way.
With offices in Wellesley, MA & the greater Kansas City area, Cheri brings over 20 years of experience providing college counseling and consultant services to both students and their parents. Working with clients, both foreign and domestic, Cheri's expertise and connections have helped place her students into over 300 different colleges and universities throughout the United States and abroad.
College admissions are becoming increasingly competitive and selective by the year as more hopeful students look to distinguish themselves. Cheri uses her extensive knowledge of the field to help utilize every opportunity and give you every possible advantage, to insuring the ultimate goal; having you open the acceptance letter to the school of your dreams and help change your life forever.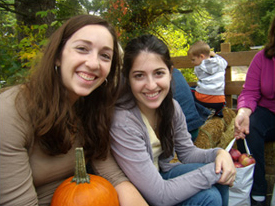 Students from left to right:
Ali -
Clark U
,
Tufts Vet Med
Katie -
Hamilton College, Yale MBA
~ two siblings ~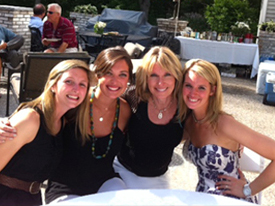 Students from left to right:
Emily -
Trinity College
Nell -
Hamilton College
Rachael -
Stetson University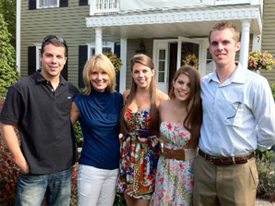 Students from left to right:
Pat -
Penn State U
Lindsey -
Boston U
Lauren -
Assumption
Chris -
U of Denver
~ four siblings ~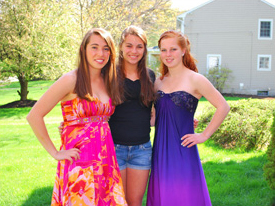 Students from left to right:
Lauren -
College of Charleston
Lindsay -
University of Colorado, Boulder
Abigail -
University of Colorado, Boulder
~ three siblings ~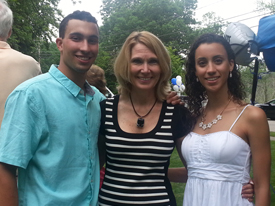 Students from left to right:
Matt -
U South Carolina
Juli -
U Wisconsin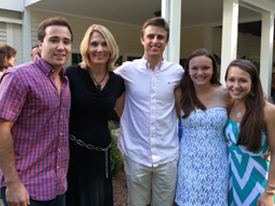 Students from left to right:
Tyler G -
Providence College
Matt C -
Boston College
Cami M -
Texas Christian U. Nursing
Kristina G -
Northeastern U. Nursing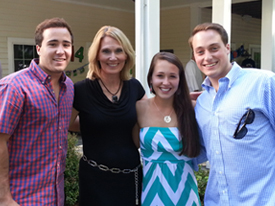 Students from left to right:
Tyler -
Providence College
Kristina -
Quinnipiac Nursing
CJ -
Boston College
~ three siblings ~ "Cheri: I just wanted to let you know how much Nick enjoys working with you. His attitude about school has changed significantly. We should have contracted with you when he was in the ninth grade. Meanwhile Kayla continues to thrive in her first year at college. Thank you!"
"We are thrilled that M, E, and M will be attending college/university in the Boston area. Without your help, support and suggestions, our girls would not have understood this difficult process. You were patient, always available and attentive to them, which all of us appreciated."
"Theresa will be attending Northeastern University thanks to your expert advice and help. She, of course, is our youngest child of six (three of which attended university in the US). We only wish we had known you for our other two children. We certainly would have enlisted your services."
"I just wanted to reach out and thank you for all the work you put into helping my siblings and I find the perfect colleges for us. I am in my junior year at Boston University and feeling extremely thankful for the people that have helped me get to where I am today. Your guidance has had an incredible impact on my life and I want you to know that the work you do is incredible."
"Cheri has worked with all four of our children over the last seven years. There was never a question, as each of our children started their junior year, who we would be hiring as their Education Consultant. She treated each of them as an individual and listened to what each of them was looking for in a 'match.' Cheri inspires students to do their best and to navigate what can be, at times, a very stressful process."
Cheri's specialty and philosophy is based on her belief that there is a 'right' school and career match for every student. In 1998, she founded Barad Education Consulting, a private, highly personalized education consulting business. Cheri holds a College Counseling Certificate from UCLA Extension. For the past ten years, she has been a guest lecturer for three classes per quarter in the UCLA College Counseling Certification program.
In order to assist her in finding the right college matches for each student, Cheri has visited and met with college admissions officers of over 500 school/college campuses throughout the United States and Canada. Current and former students have attended schools in over 40 states, Canada, Scotland and the Virgin Islands.
Cheri is a member and has served on the boards of various selective professional organizations, including HECA (Higher Education Consultants Association),NACAC (National Association for College Counselors), NEACAC (New England Association of College Admissions Counselors), GPACAC (Great Plains Association of College Admissions Counselors). Through these professional organizations, Cheri has developed collegial and collaborative relationships with counselors throughout the nation.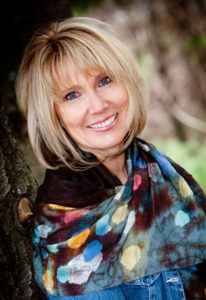 CHERI BARAD
WORKING WITH CHERI
Students and parents work with Cheri becoming a team. The goal for us, during our time together, is to involve and motivate the student to become the driving force in the process and to empower them to make good choices. The final decision of where to attend school is the place where all the elements are right; students feel they will be challenged and where they will fit in and can become an integral member of that community during their educational experience.
THE GAME PLAN
Very early in the working relationship, students and their parents are presented with a list of candidate schools that fit the criteria gathered from the assessment/survey.
At this time, recommendations regarding test prep courses, tutoring, recruiting concerns and efforts, or special needs will be presented and discussed.
"As a family, we have worked with Cheri for the last five years. She has helped place all three of our children at outstanding universities across the country. Bottom line: Three GREAT placements. Each at one of their top choices. Her knowledge, strategic advice, and admissions relationships have been outstanding. Additionally, her ability to reduce stress levels, while at the same time, honestly assessing prospects is invaluable when dealing with both teenagers and parents."
"Dear Cheri, I cannot thank you enough for helping me through this college process. Southern schools were foreign to me and my parents and you were a great help in finding the right one and organizing those crazy college trips. Thank you for your guidance and especially your determination. Thanks to you, I know where I am supposed to be! Everyone needs a Cheri in the search for the right college. You were great! Thanks again."
"Cheri is the epitome of a professional. Her dedication to her students is beyond what I have seen in most Independent Education Consultants. She researches all options for students based on their desires and academic record so that her recommendations provide strong matches for the students. As an online instructor for UCLA, she is extremely responsive to the students and provokes them to explore issues from all possible perspectives."
"Cheri has helped us with college selection and placement for four children. In each case, the child ended up in the school of his/her choice. Each of them enjoyed working with Cheri, as did I. She manages both the parental relationship and the student relationship with the appropriate interpersonal skills and the highest level of professionalism. I have enthusiastically recommended Cheri to others and will continue to do so."
Additional Services
Specialized services are available for student-athletes, international students, transfer students and students with learning differences. The focus is on an individualized approach to the search and application process.

SkypeMeetings can be conducted in person, over the phone, or by Skype teleconferencing.
"Cheri helped me through my college application process and I don't think it would have gone as smoothly without her! She gave me great advice and helped boost my confidence for an interview. I would recommend her to anyone applying to college, and I can happily say that, with her help, I am writing this review from my dorm in my dream college."
"Our four children started working with Cheri when they were sophomores in high school. She helped them choose their academic classes and got to know them early in the process. By the time they chose the schools to send applications to in senior year, we were confident that the schools they were applying to were "the right fit" for them. We couldn't have done this without her!"
"We have worked with Cheri on three different occasions and each time it was a fantastic experience for our sons and us. She knows exactly what questions to ask and was able to help our sons pin point the perfect schools for them. The entire process was very rewarding for our sons and definitely helped us focus on what was really important to them in their college search in a low stress way."
"Hey Cheri, Just wanted to let you know one of your prodigies got his foot in the door in the NFL! I'm pretty pumped!!! I had offers from the Mets and Hawks as well. Couldn't pass up on being in the NFL. Loving it so far. Couldn't have done it without you! You helped launch me and set me on the right path."
cherid2d4
As one of the biggest online academic writing sites online, online students may gain from their customized essay writing services at incredibly affordable rates. [...]
cherid2d4
If you find yourself in need of essay correttore grammaticale italiano gratis online writing support but at the same time don't have a clear [...]
cherid2d4
If you're an essay writer who wants to make some fantastic money online, then you need to know more about the essay writing service [...]